'Ocean Blvd' takes the world of Lana Del Rey to previously unimaginable territory.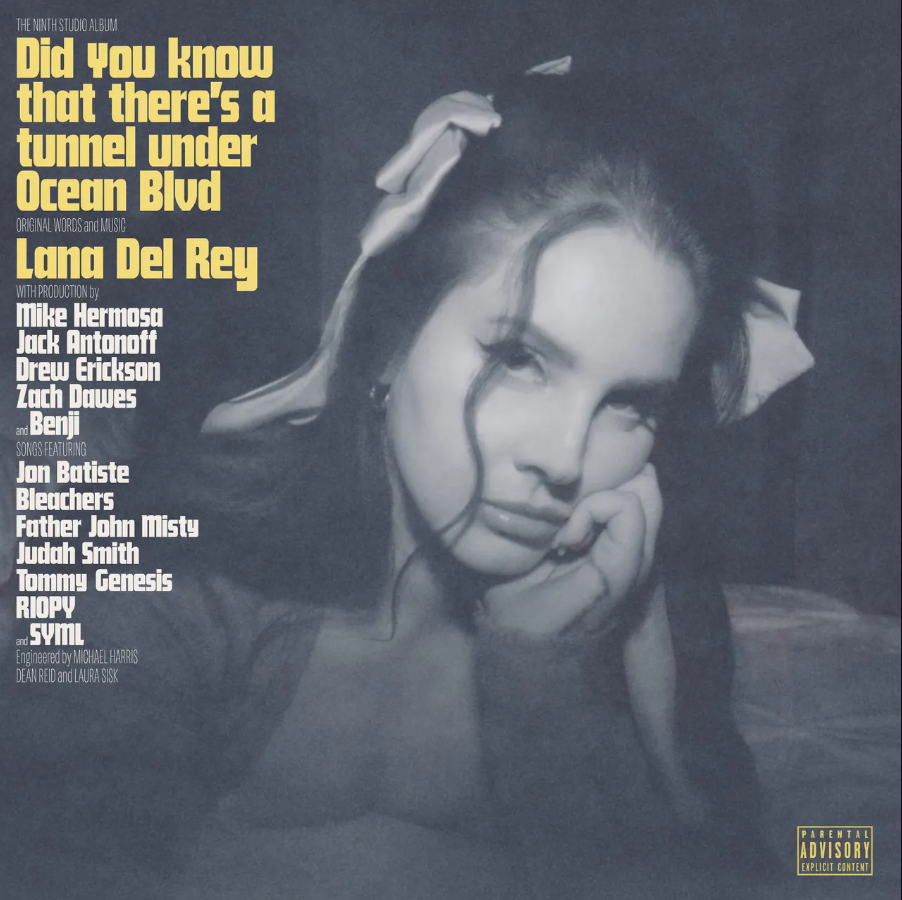 Credit: Polydor / Interscope
For this lifetime fan of Lana Del Rey, her getting weirder and more personal than ever has produced an album I never knew I needed.
It's our first 9.0/10 of the year baby! That means it'll be in contention for Album of the Year 2023.
Man does it feel good to be back in a massive Lana album. Expansive, fully explored, fully realised. Level whatever praise or criticism at her that you want, there is no denying that she has always taken an idea and run to the hills with it.
When we first met her 13 or so years ago, she presented something that didn't exist in popular music at the time: a moody, melodramatic sound, sporting a totally unique reflection of modern America. It rang with essence and essentialism, as if she'd worked out how to express what so many had been looking for. Repurposing classically American themes was nothing new, nor is making music that captures the feeling of the times. But Del Rey was doing it in a whole new way, exploring how Americana and its iconography functioned in a world rapidly evolving around the internet.
Critical to this was her image. 'Lana Del Rey' was not only a character, but a mindset. A world you could enter, and add to. Her iconic music videos were rocket fuel for the lucrative Tumblr GIF market, whilst her Twitter and Instagram posts were like guidebooks for how we wanted to present ourselves online. Interacting with this world set the template for what is often referred to today as 'romanticising your life'. It was a world view with its own aesthetic, soundtrack and community.
And boy was her world intoxicating. Tragic, glamorous, filled with the very best and very worst of people. America was a decaying institute, overrun by its own wealth. Its classic symbolisms, especially the pop culture ones, were given new life and context here. Its youth were partying away its final days, and thus, her music became a lens to view everything within our lives. It was a view that both reflected reality and dramatised it as no one had done before.
Her audience spread online, and thus her America was one all of us could access. The first internet generation, rejected like all youth generations before them by those in control, born into a world being devastatingly reshaped by technology. The escapism she offered was an antidote to a place where 'Facebook news' was – and remains – a phrase being used seriously.
"She speaks with an interpersonal urgency, fretting that along the way, she might have forgotten to tell us who she really is."
Time moves on of course, and all of us who were styling our Instagram feeds around flowercrowns and noiry shots of Los Angeles have grown up. Del Rey continues to be introduced to Gen Z courtesy of TikTok, where she's had yet another resurgence. But for those who've had her influence on their lives for over a decade now, her music has become both a time capsule and chronicling of what being so online did to us. My fashion is still influenced by how Ultraviolence made me want to feel back in 2014. Perhaps it always will.
With that, we arrive at Did You Know That There's A Tunnel Under Ocean Blvd. Things feel different, immediately. That's a long name for any artist, and whereas her previous album titles had an immediacy to them, this one feels far more solemn. A longing question, explored in its title track as a musing on death and how artistry evolves over time. The story she's telling here, and on a lot of the other tracks, is a deeply personal one, and a far cry from the illustrious tales on her past material.
That's because much of Ocean Blvd is an exploration of the concept of what 'Lana Del Rey' is. The character that she set up on Born To Die, fleshed out on Ultraviolence and Honeymoon, and which achieved its zenith with Norman Fucking Rockwell!, now sits far back in time enough that it can be reflected upon. She speaks with an interpersonal urgency, fretting that along the way, she might have forgotten to tell us who she really is. There shouldn't be expectation to do this, of course, but it's clear in her songwriting that now is the time. Something has ended, much as it's difficult to describe what exactly that is, and it has to be acknowledged.
For Del Rey, this exploration means letting us into her state of mind. We sit on the floor with her as she studies her memory, attempting to place herself within both the world she has formed these last 13 years, and the world as it is today. Three songs open the record all dealing with death and self-perception, including that aforementioned title track. This most certainly is more than just a record that inspires new Tumblr blog themes.
"…it's more a collection of 16 vignettes. 16 beautiful vignettes at that, chronicling what Del Rey needs to get off her chest."
While the progression of the record feels cohesive, it's more a collection of 16 vignettes. 16 beautiful vignettes at that, chronicling what Del Rey needs to get off her chest. We meet her mother, father and extended family. She talks about having children of her own, and who she would take to heaven with her. She speaks of her self image, the things that have made it and damaged it too. There are lovers here, as we've often heard about in her songwriting, but here she speaks about them like it's a therapy session, and not as apt material for romantic daydreams.
A search for reason runs through much of this work. Del Rey isn't totally raw on this aspect, as some other artists have been at this point in their career, but it certainly lingers across the album. Taken in this light, 'Judah Smith Interlude', a cut that has caused confusion and even upset with some of her fans, looks less like an appraisal of the megachurch pastor's spiel, and more a mockery of what people do to find themselves. Those laughs on the track are there for a reason, and ending on him saying "My preaching is mostly about me" certainly speaks for itself.
More exciting too is that this is perhaps the most instrumentation-driven record she's delivered yet. The influence and iconicness of the sound she's built for herself is undeniable, but the songwriting has always led with her first. Ocean Blvd, however, has a desire to change that. Gorgeous pianos fill the middle of the album, whilst on the cinematic 'Jon Batiste Interlude', they pretty much take over everything. Just listen to those electronic beats on 'Fishtail' and 'Peppers' too; a callback no doubt to how she blended elements of Hip Hop into her earlier work, but now done to all-new effect. Features on the album, more often than not, aren't there for their vocal additions. The reliance on her character drops away.
"Cultural hardpoints are traded for beautiful melodies, whilst the production, led primarily Jack Antonoff's never-ending brilliance, is exquisite and celestial."
That is certainly one of the main reasons this feels so much like an exploration of the concept of Lana Del Rey. The experiences she pulls from for inspiration have a behind-the-scenes feel. The line "I know they think that it took thousands of people / To put me together again like an experiment" on 'Grandfather' really lays out her perspective on the album. Cultural hardpoints are traded for beautiful melodies, whilst the production, led primarily Jack Antonoff's never-ending brilliance, is exquisite and celestial. He puts her vocals across a thoroughly ethereal range; sometimes she's on an empty stage in front of you, sometimes she fills the air like summer heat. Her America is disentangled across its sky, references made sporadically, and much of its setting driven by intonation.
Nowhere is that more present than on the incredible, bewildering 'A&W'. Del Rey is employing a classic naming tactic of hers in referencing a stalwart American beverage. Yet, it couldn't be further from anything else she's ever released. A 7 minute train-of-thought reflecting on her sexual objectification and its consequences. It hits hard, and is ripe for interpretation, not least because of that wild second half that sees the track taken over by a Trap beat.
Amongst other favourites on the album, 'Let The Light In', featuring Father John Misty, stops you in your tracks with those opening chords alone. It's one of the most contemporary and moving things she's ever created. The title track has been in my head since it dropped at the start of December, and looks unlikely to leave anytime soon. When all the backing vocalists chant "Don't forget me" at 3:42, it's like the gates of heaven are opening. 'Sweet' and 'Paris, Texas' are both sure to become fan favourites too.
"…in many ways, she is turning the mirror on the rest of the world for the first time. There are consequences to music that allows its fans to be so involved, and artists are not invulnerable."
If any further proof is needed of this being a character analysis of 'Lana Del Rey', just listen to those references back to Norman Fucking Rockwell!; 'Love Song' getting mentioned on 'Let The Light In', a melody on 'Fingertips' being the same as the pre-chorus on 'Bartender', and most prominent of all, an early mix of 'Venice Bitch' hazing into the final track to close out the album. Del Rey isn't asking us to remember how good that era was, she's interpolating how significant it was in the life story of her persona. In deconstructing one of her most thematic-heavy releases across an album of deep, personal, ethereal introspection, she considers the power of what she created. A world to interact with, a personality to embody, an aesthetic that has defined artist-fan relationships in the 21st century so far.
It might seem as if she's wanting to kill it, but I don't think that's the point – too much of this album still rings with her allure for that. But in many ways, she is turning the mirror on the rest of the world for the first time. There are consequences to music that allows its fans to be so involved, and artists are not invulnerable. We're still on her side, no doubt, but with a look behind the curtains comes a need for reality. The enigmatic worlds we could escape into on her past work, which allowed us to form fantasies in our own lives, have been replaced with an astute reminder; the personalities we create have lives behind them. 
In her early days, it was as if she held the image of modern Americana in her hands. Every movement of her finger articulated exactly what the youth of both the US and the world wanted to see in it. She has blazed a trail on that wave ever since, and now comes the necessary evolution. This new side in turn accompanies her most ambitious and out-there work to date; Ocean Blvd is an uncompromisingly bold addition to Del Rey's discography, stunning in its ardor and tenacity. The softness of its sound would be easy to dismiss as weak, but it's a vessel with which to present the most vulnerable and real picture of herself she's even shown us.
You might be able to deduce from this review that Lana Del Rey means a lot to me. Her music arrived right around the time I started wanting to have a presence online. I've followed the community of her fans across the internet and, more recently, in real life too. As transportive as her music has always been, her writing always grounded her persona as a node to connect what she was singing about with our own lives. We've watched her develop it at every step, and thus as she's grown, so have we. Her music brought colour to my life I never knew I needed.
In turn, Ocean Blvd has arrived at a point in my life where I didn't know how much I needed to hear it. Whatever it was that ended for Del Rey, I feel that something has for me too. I really can't place what it is – teenhood, university, the pandemic, being in my mid-20s, something to do with politics. It's neither positive nor negative, and perhaps years from now, I'll realise it's just what happens as you get older. Del Rey and her character are older too, and with age comes new depths and change. No matter what direction she takes, it seems she's always the soundtrack to my life.
Score: 9.0/10
Check out Sourhouse's favourite tunes right now on the Sourhouse MUSICBOX playlist.
Updated with new additions all the time.