We take black music for granted. Now's the time to change that.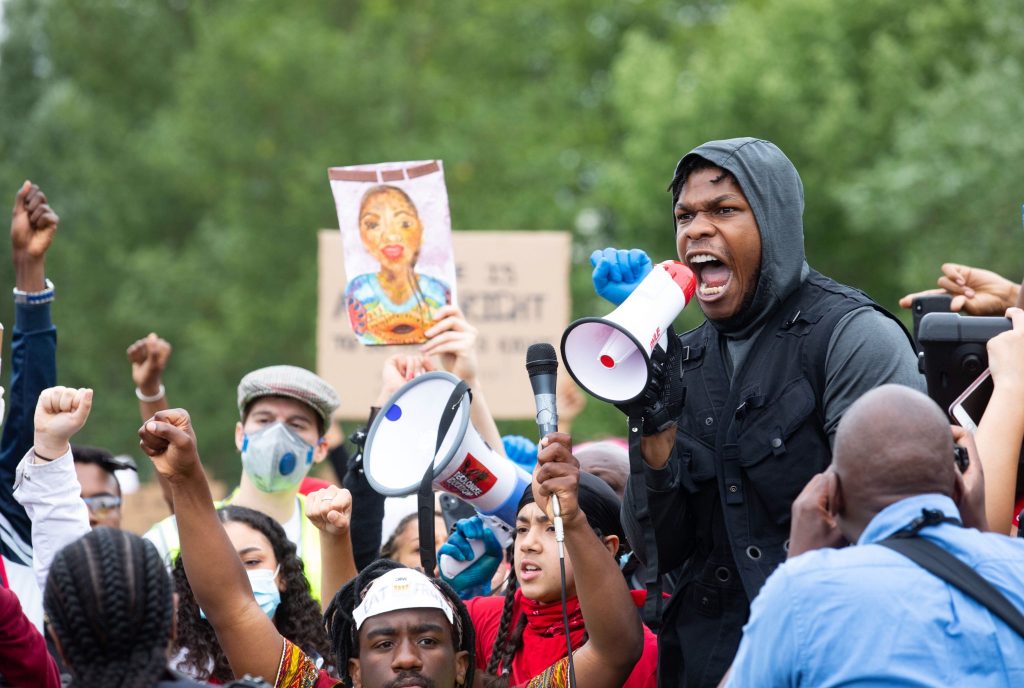 It's no longer enough to just listen to black music without challenging the ingrained racism those artist face.
As a white listener of black music, I take for granted the difference in the quality of my life between myself and black artists. The racist killing of George Floyd has displayed the inequality that black people face in Western societies. The reaction from some to the Black Lives Matter protest in Hyde Park yesterday fully exposed the often casual and often ignored racism permitted in our own country.
It is no longer enough to just side with the black experience described in black music. Nor is it enough to simply identify with black struggle when you see racial violence in a Twitter video or addressed in an Instagram story. The onus comes to you, the listener, to step up.
Earlier this week, an event called Blackout Tuesday was held as part of a new campaign called The Show Must Be Paused. Set up by senior music industry members Jamila Thomas and Brianna Agyemang, they ask us to question how the industry profits off of black music at the cost of inequality.
Which has had me questioning how I might have contributed to this problem. Not just in the music industry, but in society as a whole; Western society is underlined with instituionalised racism. In the UK, it expresses itself in a multitude of ways that, as a white person, I now recognise I have to educate myself on. It appears both visibly, such as through a criminal justice system that is unfairly harsh on black people, and less visibly too, such as through our internalised image of black people.
We can often simply excuse it too, such as when an extremist politician describes black protestors standing on a war memorial as "[hating of] our values, our culture and our country". We ascribe it to simply being 'that person's view' and don't consider fully the implications of those words.
Educating ourselves on this has become an absolute obligation in the wake of yet another black life being taken by police brutality. The conversation in the UK has turned away from seeing such events as just isolated to the US and understanding how racism exists in the UK. As a white person, I understand now more than ever that I have a lot to learn. For me, that starts with music.
How often do we genuinely consider the experience of black artists when we listen to their music? Hip Hop and Disco are two genres that I adore. Both have proudly black origins and are defined by black music legends. Yet how I got into them highlights that underlying societal racism and the privilege I have to enjoy that music without suffering from how society sees and treats black people.
I grew up in a privileged middle class commuter town in the south east of England. Dr Dre's 2001 and The Grandmaster Flash Collection were my first Hip Hop albums. I felt empowered to have a kind of sympathy for the artists on those records as they spoke of racist policing, financial inequality and wider forms of racism.
"Hip Hop was presented as a form of black protest and expression that I could simply enjoy and agree with as a white person."
I felt like it was enough to just acknowledge their stories and 'take their side'. Hip Hop was presented as a form of black protest and expression that I could simply enjoy and agree with as a white person. It reinforced the conditioning story I was told growing up about the 'great progress' in civil rights for black people. Worse than that, it was almost as if I was 'doing a favour' when I sang along to those lyrics of oppression.
Watch the protests demanding justice for victims of police brutality in the US, read into the campaigns supporting them, listen to the conversations being had surrounding all this and you will quickly realise that that attitude is not good enough. I do not face the same racialised experience in society that the black artists I adore do.
Which brings me to Disco. While the image of Hip Hop is often one of black struggle, surely Disco, a genre about expression, freedom and a lot of dancing, can be 'separated' from racism?
That simply isn't the case. Disco was one of the first black music genres that achieved mainstream success across America and Europe, growing to popularity in black, queer, Latino and Italian-American clubs. It dominated the charts of the late 70s, so much so that the cringely-named 'Disco Sucks' movement emerged to oppose it.
It led to an event called the 'Disco Demolition', held at a Major League Baseball game in Chicago on the 12th July 1979. Dealing with poor attendance, the Chicago White Sox offered 98 cent tickets if fans brought along a Disco record with them. The records were to be placed in a crate on the field halfway through the evening to be ceremoniously blown up.
Organiser and 'anti-disco' radio DJ Steve Dahl has always stated that there was no racist or homophobic intention behind it. Those who took part, however, seem to have thought otherwise. Many critics have noted since that the predominantly white crowd brought not only Disco records, but other music made by black artists as well. The event ended in the pitch being stormed by fans and a riot breaking out.
Following the event, labels that had once been very supportive of selling Disco music changed their focus, and the genre lost its mainstream appeal. 20th century music saw a number of black movements such as Jazz and Rock n Roll taken over by white artists. When a black genre broke through to mainstream success in tandem with white artists – rather than because of white artists – the reaction ended up turning negative.
So when I play Chic or The Trammps or Diana Ross loud and proud as I often do, it can be easy to forget that the experience of life is so fundamentally different to my white experience. We are willing to tell ourselves a comforting story that black artists in the 70s must have 'had it harder' than black artists and black people do today. That doesn't explain why George Floyd was murdered.
"How many times has Hip Hop been presented to you in the media as aggressive or as characteristic of black people?"
Taking for granted how much more privileged my life inherently is because of my skin colour has to end. It's about more than just acknowledging that though; acting upon it is the only forward. Considering what you might reinforce when you look at black music or talk about it is one way to start that.
How many times has Hip Hop been presented to you in the media as aggressive or as characteristic of black people? I know full well that the majority of people around me in my life would be willing to challenge those aspects. My feeling though is that we should be questioning why it makes news at all.
Because when Hip Hop dares to speak about the black experience with police brutality, such as on Kendrick Lamar's masterpiece anthem 'Alright', Fox News hosts describe it in the most pathetically paltry way as "unhelpful" and claim that that "hip hop has done more damage to young african americans than racism in recent years".
Closer to home, Conservative Michael Gove recently denied British Grime artist Stormzy's platform to use his music for political purposes – Stormzy stated that Boris Johnson was "sinister" – by saying he is "a far, far better rapper than he is a political analyst". He followed it up with racially stereotyped language on Twitter – I quote, "I set trends dem man copy".
What is a jovial game for Mr Gove is a reflection of the experience for black people in Western societies. We can pass off the Kendrick story as "just Fox News being Fox News" or Michael Gove acting like a "typical Tory". Yet both Kendrick and Stormzy openly and fluently discuss the racism they face in American and British society respectively. Passing these off as news stories that we choose to complain about on social media isn't going to change why those artists are having to speak up.
When I, a white person, listen to black music, I do so with the safety of a society that chooses to benefit my skin colour compared to that of the artist's. If I refuse to go out and challenge that fact, I am allowing that problem to continue. I am taking my experience for granted.
"We have every right to enjoy music in all its forms and from all its origins, but we must be willing to address inequalities if we are to truly support it."
Many of the discussions that have emerged from the killing of George Floyd have focused on activism. Not just falling back to typical performative acts on social media, but actively supporting the fight to remove racism from our society. It can seem hopeless against a problem that is so deeply ingrained in our society.
It's for that reason that we all need to work out how we can make a change on an individual level. A huge amount has been said about how people can do that, and that applies to the music you listen to. We have every right to enjoy music in all its forms and from all its origins, but we must be willing to address inequalities if we are to truly support it.
My goal now is to identify the racism that exists in my everyday life. To challenge it where I can. Action does not have to be big or radical. It can be done in simple ways. Contact your MP. Donate to one of the bail funds supporting US protestors at the moment. Join a local racial inequality movement (for those of us in Wales, Race Alliance Wales is just one such group). Refuse to be brought in to societal or media narratives about black music and black culture.
More than anything else, be honest with yourself. If you're a fan of black music, go out and damn-well celebrate it, in the knowledge that you are willing to take on the challenge of removing racism from society.
---
This article was not intended to be an exhaustive or comprehensive look at black music and racism. Just like it is for myself, this the start of a longer journey and part of a larger conversation. Take the time to educate yourself:

A Google Doc of ways to support black lives in the UK compiled by @perkin_amalaraj.

1Xtra Talk's Special on George Floyd and Black Lives Matter – listen to this if you want help working out how racism can present itself in society.

A list of bail funds supporting US protestors – even small donations make a difference.

An extensive list of books to educate yourselves on racism compiled by Time magazine.