Sourhouse Albums of the Year 2021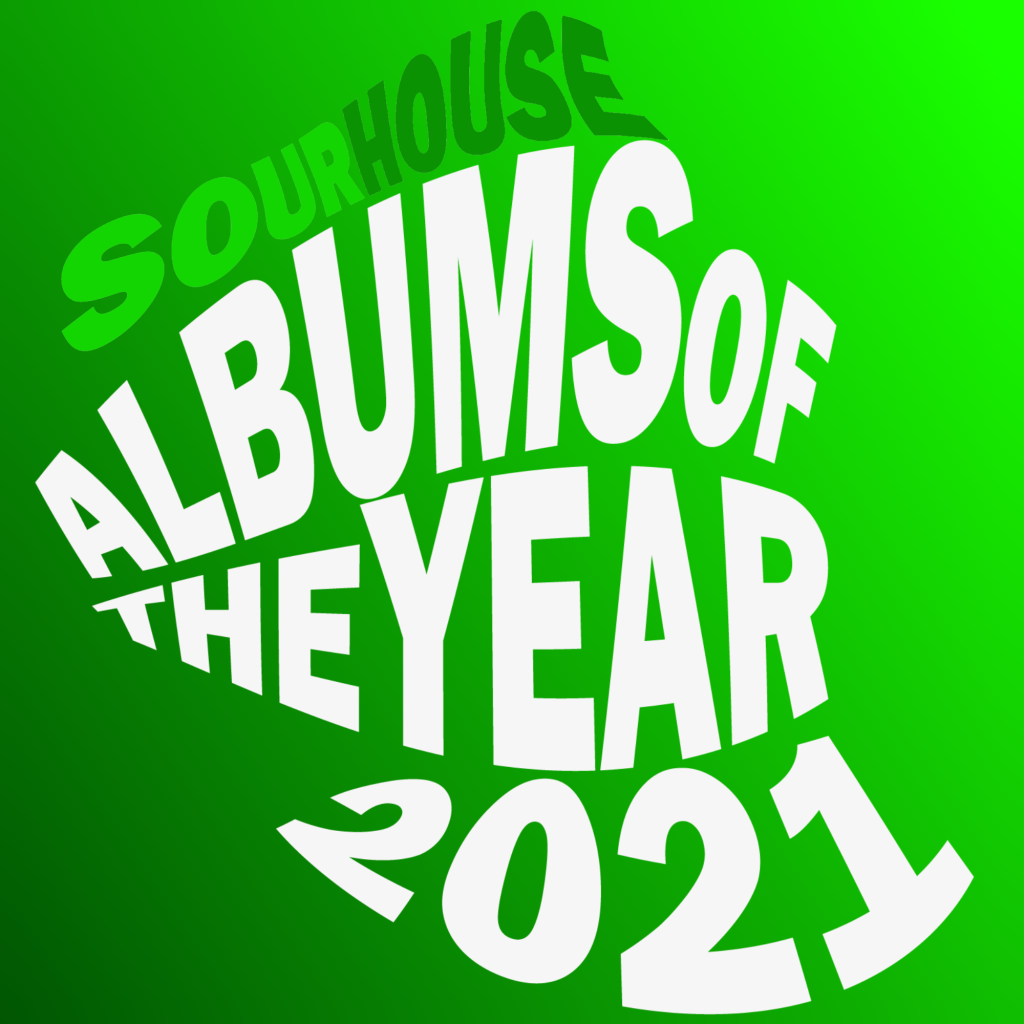 ---
Music for warped times.
A word from the editor:
Two distinct themes emerge from this year's Sourhouse Albums of the Year list: one is of records seeking escapism to cope with living in 2021; the other is of artists assessing society, politics and themselves. Both can be seen as seeking assurances for the mad times we lived in, a world where its extreme highs and lows have warped the way we see things.
On paper, you'd be forgiven for thinking a lot of the twenty records on this year's list are sad or depressing, but there is a lot of joy to be found within them. As artists find their conviction to describe the world we currently live in and what it is doing to us, they have delivered one of the most compelling years for music in a long while. Better still, the diversity of genres with which this progression is being made is fantastic; everything from classic singer songwriter wholesomeness to futuristic experimental hip hop is to be found here.
This year's list includes the likes of Wolf Alice, Tyler The Creator, Sam Fender and PinkPantheress, whilst deciding what would take the #1 spot was very difficult indeed. Qualification for the list is anything released from the 1st December 2020 to the 30th November 2021, to ensure everything has had time to reach my speakers. Albums, EPs and mixtapes are all eligible for inclusion, and any reference to a 'debut' release means that this is the first time an artists has appeared on this list. Without further ado, let's dive into the 20 records that made 2021.
-Munro Page, writer of Sourhouse Music
---
Positions #20-#11
#20
LORDE – SOLAR POWER
Some Lorde fans may have been left miffed by Solar Power, but I'm sure none can disagree that THAT is her best album cover to date. A flirtatious, abundantly summery image that matches the mellow vibes of the music inside. She joins the roster of pop girls in their chillout era, with her offering mixing Madchester-esque dance beats with singer songwriter authenticity, resulting in rewarding gentleness and brilliant lyricism. Shimmering under a hot but welcoming New Zealand sun, it makes for some of her most transportive work to date.
#19
JEVON – FELL IN LOVE IN BRASIL
Routing to Brazil via suburban London, Jevon's debut album is a genre-bending, body-moving record that boldly combines the minimalist swagger of UK Hip Hop with the richness of Brazil's musical heritage. A fiery underbelly makes itself known throughout the runtime, with Bossa Nova and Funk Carioca coming through at points, whilst his rock-solid flow ensures it remains Radio 1-ready. More than anything else, however, it's Jevon's pride that shines; pride in his heritage, his experiences, and the need to express them. Fell In Love In Brasil links two sonically isolated places to create a bombastically fun fusion.
#18
WOLF ALICE – BLUE WEEKEND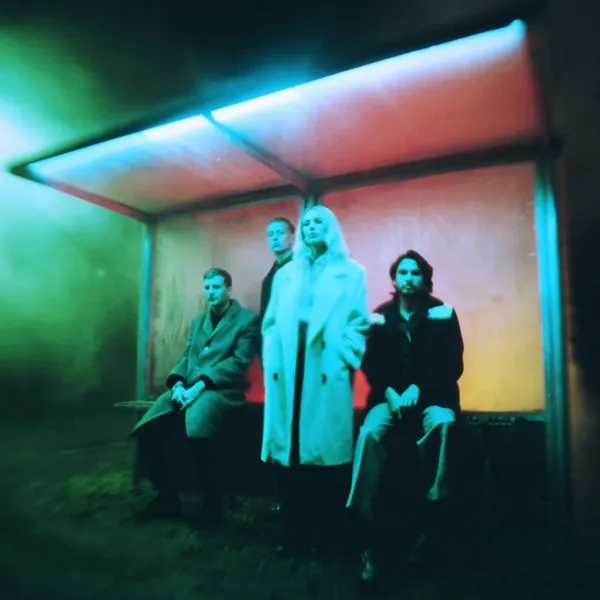 Wolf Alice's talent for emotive, towering indie bangers has emerged in its noisiest iteration to date on Blue Weekend, truly a record for late night listening akin to the neon-drizzled scene on its album cover. In its own search for imagination against the dross of middle class living, it carries the need of its listeners to find a similar escape. Just listen to the way those choruses burst into lush, expansive nightscapes; Rowsell and Co know exactly how to tug on the heart strings to create reliable, dreamy indie rock of the finest kind.
#17
DAVE – WE'RE ALL ALONE IN THIS TOGETHER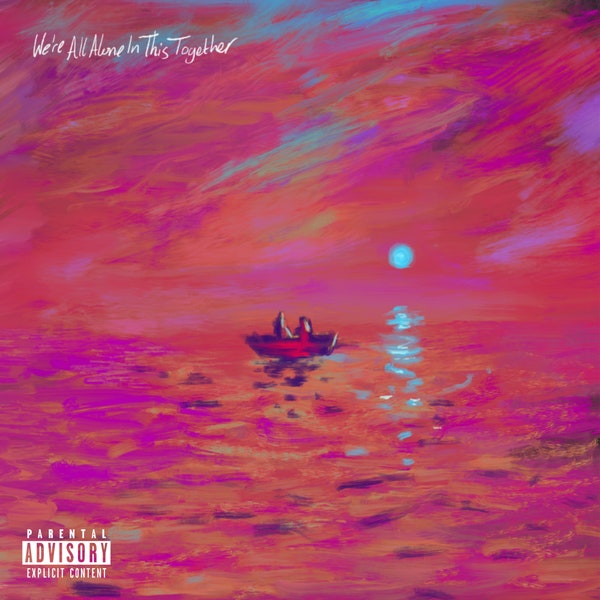 The unavoidable defeatism and sense of loss pungent on We're All Alone In This Together offers a starkness like little else I've heard in a minute. That album cover, which looks like it could be a Turner or Monet, is so vastly in contrast to the record's content that it almost feels like a joke. But laughs are not to be found within Dave's disgruntled, harshly political tone delivering unrivalled seriousness. The anguish at the state of things and of his world burns through, a record with a necessarily unhopeful conclusion that captures Black Britain with an artistic darkness.
#16
JAPANESE BREAKFAST – JUBILEE
Amongst our era of immense pop innovation, Japanese Breakfast have achieved a remarkable calmness and contemplation despite their record being chock full of bops. Jubilee wants to accompany you late at night when you're alone with your thoughts, and remind you of what makes you happy. A true 11:30pm weeknight soundtrack, colouring your listen in a yellow hue that inspired both happiness and malignment, everything about the record manages to achieve light-hearted springiness with deeply felt honesty. It's an album that understands and moves in the way your own thoughts do; there's no dress up or re-conceptualisation here, just honest, contemplative pop goodness.
#15
IDLES – CRAWLER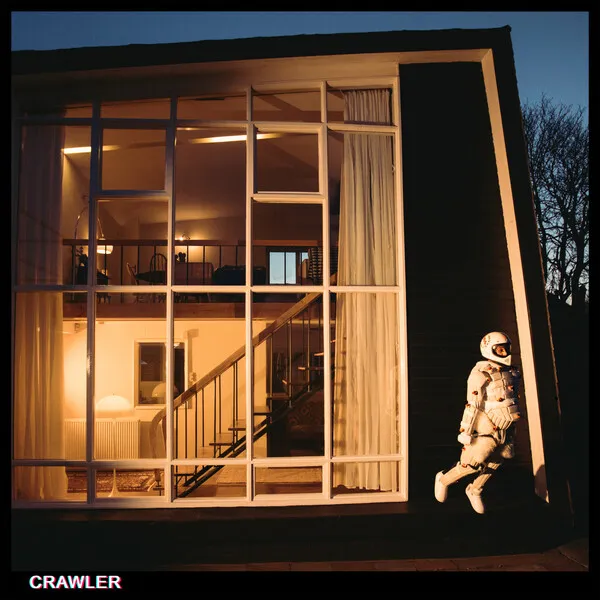 Idles are back! And this time, they're feeling sad! In what has evidently been a time of immense reflection for the band, the Bristol post-punkers come to the door softer, and with their tail between their legs. In keeping with their mantra, however, there is no shame in showing this side of themselves. Crawler still blisters as their previous records have, but not for being adrenaline-burning punch-ups, but for packing their most emotional and moving material to date. An ache and need to exorcise their underlying depression powers the album, and makes it a hugely rewarding listen.
#14
TYLER THE CREATOR – CALL ME IF YOU GET LOST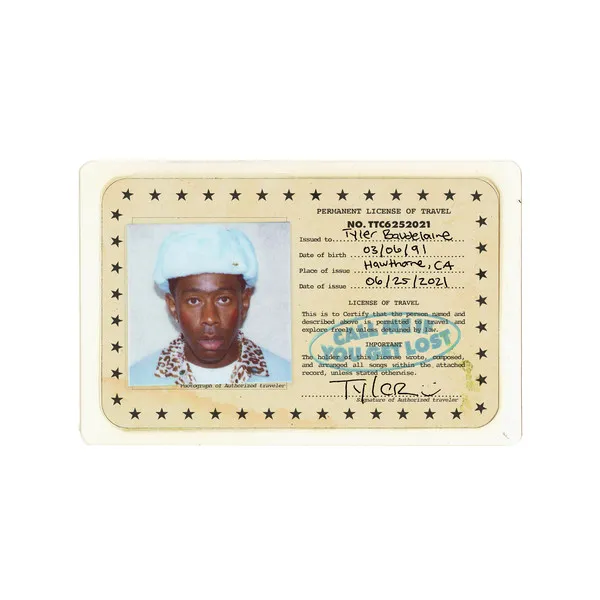 No, it's not the genre-defining release that Tyler has been able to do two times on the trot since 2017. But Call Me If You Get Lost is undeniably brilliant, an artist who has so many opinions of himself decided zealous online communities deciding to release something clearly for him and not to please Needle Drop stans. The sun-kissed tropical flavours underneath much of the record send the listening experience further south than his usual California world, and that fresh setting gives his most reflective lyrics to date even more power. As a mark of Tyler's progression from the edgy to the grown up, you couldn't ask for more than the roster of delicious beats it serves up.
#13
LANA DEL REY – CHEMTRAILS OVER THE COUNTRY CLUB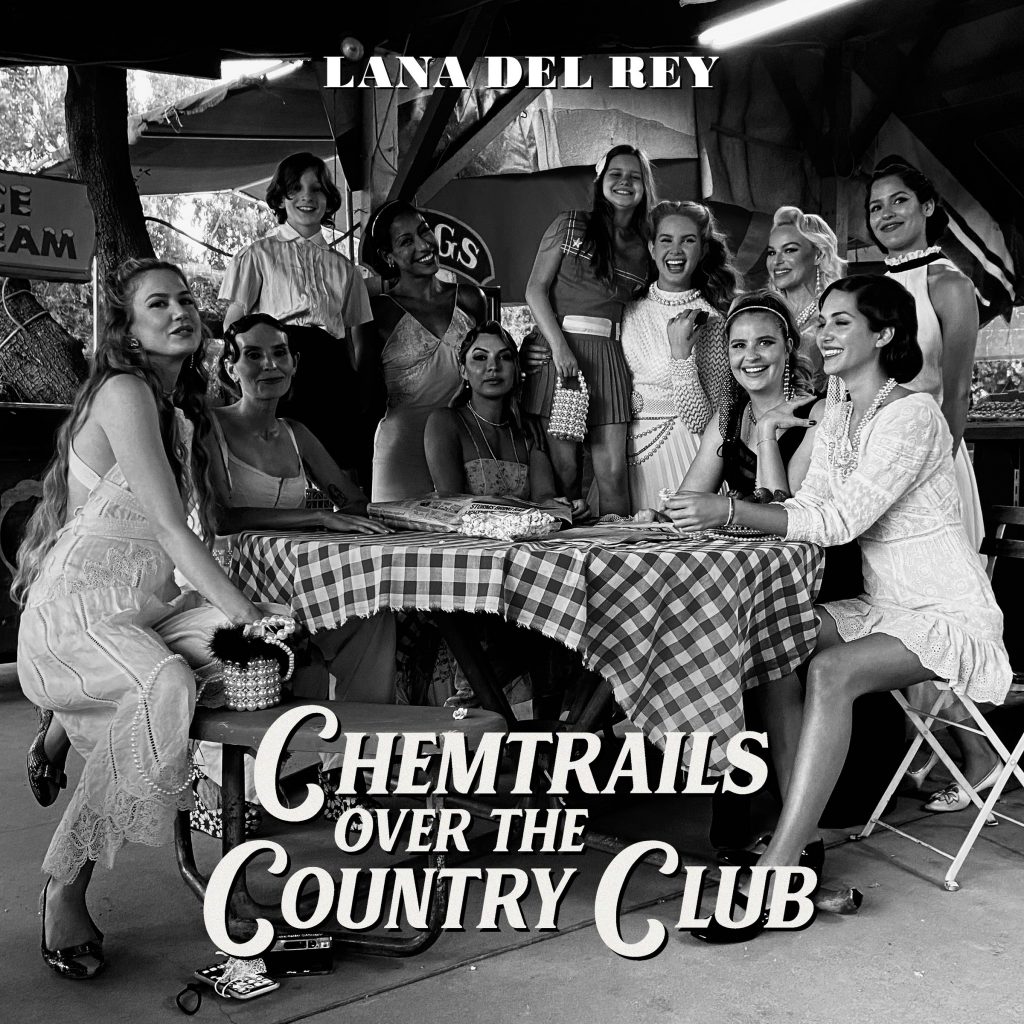 What does a post-Norman Fucking Rockwell! world look like? Del Rey seeks to find new grounding on Chemtrails, wanting to capture a more integral side of where she is in life. In that search, her songwriting aches over the balance between nostalgia and the present. The constant love for her family, friends and childhood in her words is abundant and nourishing to listen to, whilst the references to Americana ground it in a home-grown United States aesthetic.
It reveals a more reflective, more personal side of herself, no longer playing up a character of a longing lost soul on the west coast, but instead adorning the things she loves with an aesthetic both at once in the past and in the present. I've poured over that illustrious album cover and the gorgeous accompanying photos for hours, her friends and family dressed to the dime under a romanticised desert sun, each of them matching the need for tangibility in the memories and people we hold closest.
#12
SLEIGH BELLS – TEXIS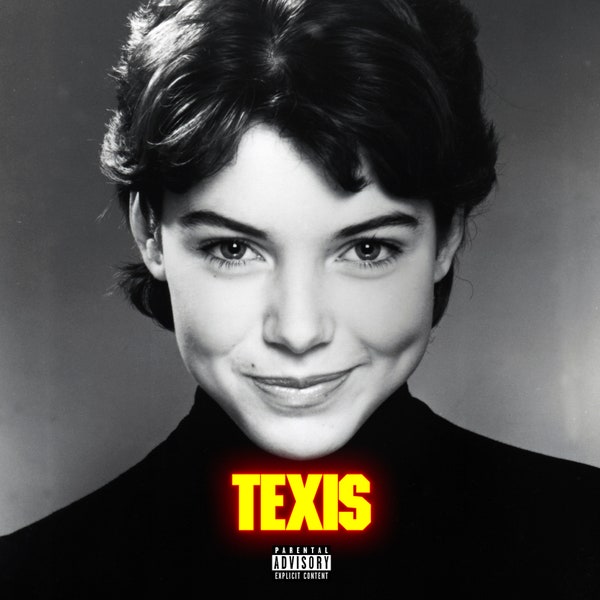 The bombastic sounds of Texis ricochet off one another with a hyped composure, every cut being as brilliant as the next. Mixing the cool underground harshness of electroclash with softer, passionate vocals, Sleigh Bells create a brilliant and fulfilling sound palette, unabashedly cashing in on its weirdness. Hints of hyperpop and their earlier punkier material rush by, each as springy as the next influence.
The duo have long had a penchant for the tongue-in-cheek, but something about their talent to produce it is stronger than ever here. So much expressiveness is allowed by the sound they go for, creating affirming, tastefully whacky material that scratches an itch I didn't know I had.
#11
LINGUA IGNOTA – SINNER GET READY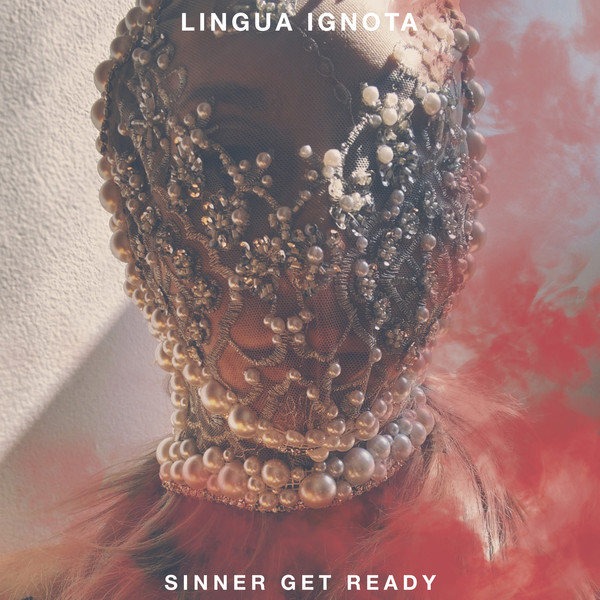 Nothing beats assessing your relationship with God via baroque art music, and Lingua Ignota rips herself apart as she releases her personal tumult on Sinner Get Ready. Commanding with almighty power, yet beautifully slow, as heavy as the great cathedrals in which you could imagine the drama of the album playing, its pain drips like blood, its anguish running like a torrent.
Ignota delivers a fiery assessment of modern Christianity, riddled with darkness and violent imagery mimicked in its engrossing instrumentation. It sets out a cold, scarred world, cut off from reality and set in the halls of her mind. This is far beyond someone just putting their feelings to paper; it confronts the immovability of a God in our lives, and the force needed to reckon with that.