2000 Trees is the festival that gets everything right yet again.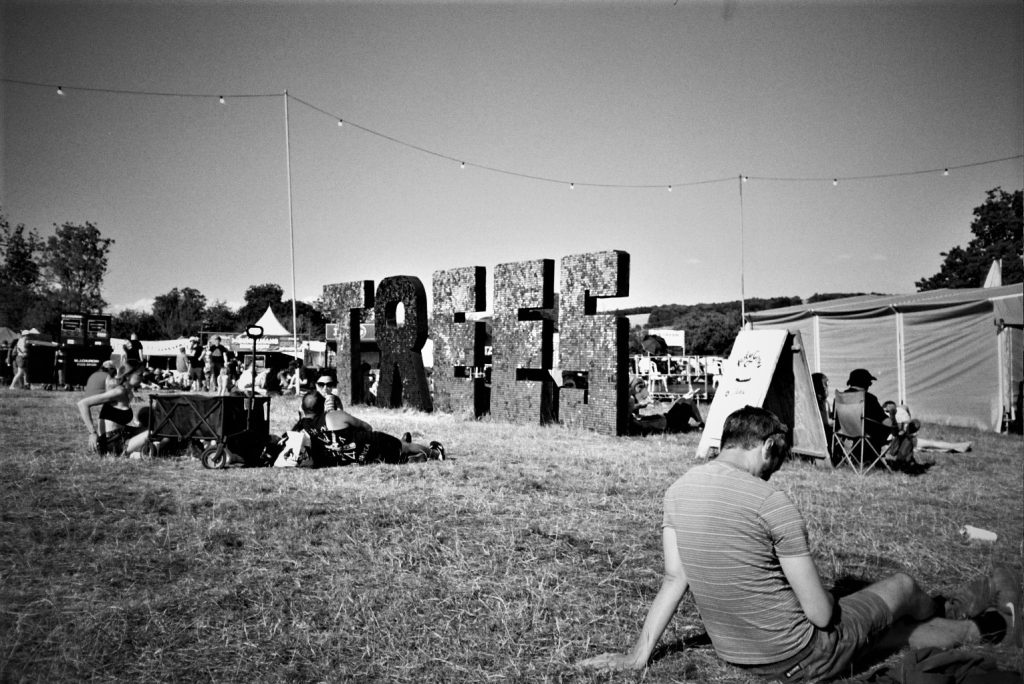 In an oppressively-run country and a difficult time for festivals, 2000 Trees perseveres.
Verdict: The best festival in the country.
The drive to 2000 Trees is always a grounding one. The Cotswolds are insanely pretty, truly one of the most beautiful parts of the UK. But it's a struggle to look past the blight of gated drives and massive SUVs, all of which serve to remind you that you'll never afford to live here. It may well be a designated Area of Outstanding Natural Beauty, but you can only access it via an hour-long drive in your plucky secondhand hatchback up the M5. Only certain people are allowed to wake up to its views everyday. Oncoming drivers glare you down with snobbery.
But soon, after passing the pubs serving £7 pints and the horse racing schools, you arrive at Upcote Farm, a beacon of hope not only amongst its affluent surroundings, but on a wider scale altogether. For here lies a guaranteed 4 day escape from the oppressive state of our country, and proof that festivals haven't become too expensive and too over-managed to survive.
It's my belief that the festival experience should be something of a cleansing. You should come out the other end reset, with fresh perspective and fresh energy. After another weekend of drinking, sweating and moshing at one of my favourite places in the world, I swapped thumping guitars for the dulcet calm of Billie Holiday, and whilst lying on my bed, achieved a zen I've never felt before. That is most certainly mission accomplished.
"Every year, it turns a quiet valley in the Cotswolds into an enriched assortment of Punk, Metal, Hardcore and more."
It's a tough time for the festival experience. Running costs are higher than ever for the organisers, and ticket prices are forcing people out of going. For those who can make it, drinks are a small fortune and security can't quite get the right balance between fairness and heavy-handedness.
Yet, somehow, Trees perseveres. It can't be ignored that it's a lot more expensive than it used to be. But its spirit hasn't been even remotely tarnished by these difficult times. Every year, it turns a quiet valley in the Cotswolds into an enriched assortment of Punk, Metal, Hardcore and more.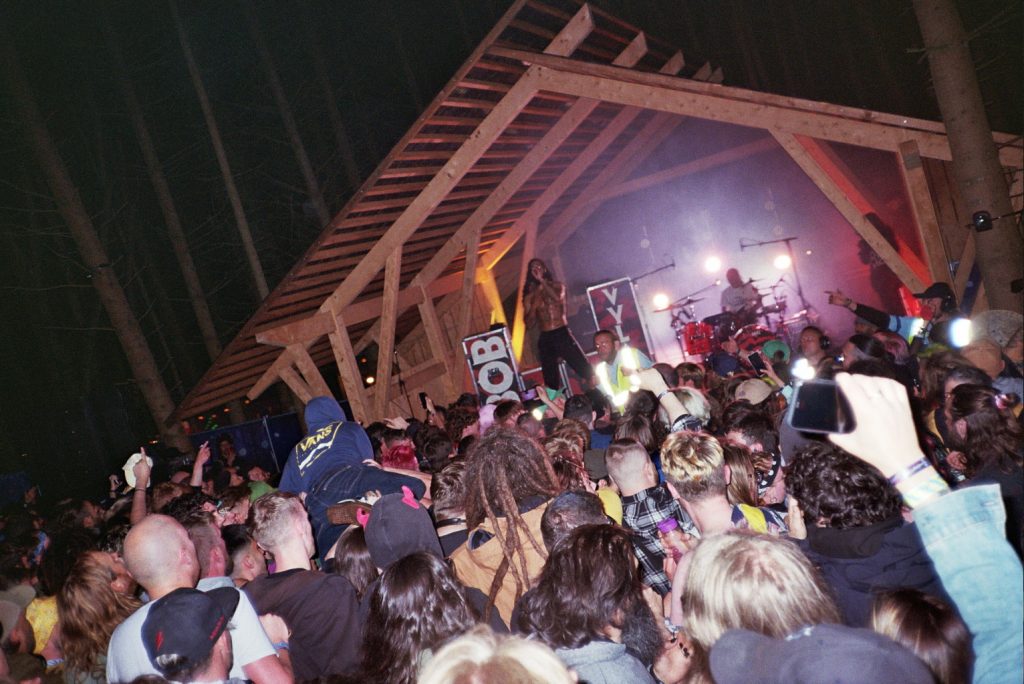 And man in these difficult times has it been needed. The UK is so far through the looking glass that even its more dystopian aspects are starting to seem banal. Our government wages war on people who aren't straight, who are foreign and who are poor. None of our services are working and it feels like a lifeage until the next election is due. Come the start of July, I was in need of detaching myself completely and finding grounding once again. Thank god for this festival.
It's my third time going to 2000 Trees. Indeed, it was the first festival I ever went to, and I shared my tent with my now best mate who first invited me back in 2018. It's a breeze to get in, especially now that you can set your camp up before collecting your wristbands. The lineup is always an informed, essential selection of old and new. Every stage has its own instantly recognisable identity, and each is well worth sitting at for hours on end just to see what turns up. It's the very essence of what a great weekend of music and community should be.
"Trees, incase you hadn't already guessed, is very queer friendly."
On paper, Trees sits on the 'rock' festival genus. But the truth is that it's far more of its own brand, not least because of how well it blends into its local terrain. Set against the side of a valley, there's an incredible sense of chill across the site, and yes, there are many, many trees. Despite how difficult it is not to be in eyesight of a moshpit, it holds everything in perfect balance; nature and civilisation, hardcore and relaxation.
That balance is even found in its iconic silent disco. Thursday night had the usual mix of Metalcore, Pop Punk and Alternative bangers on the go. Except for yellow channel, playing host to a DJ set from Tokky Horror. I tune in just as one of them announces "We're on a journey to 220 bpm" – oh hell yeah. It's just what I've been looking for; over the next hour, my mates implore me to change channels on multiple occasions, but I've waited my whole life to hear a Techno/Happy Hardcore set. I'm also more than happy being called a s*** in between songs by members of the band. I find myself jotting down track IDs on my notes app throughout, including 'GSPOT', the bombastic new cut from Big Wett. A group of listeners gather down near their stage, where the band members wave trans rights banners. I feel right at home.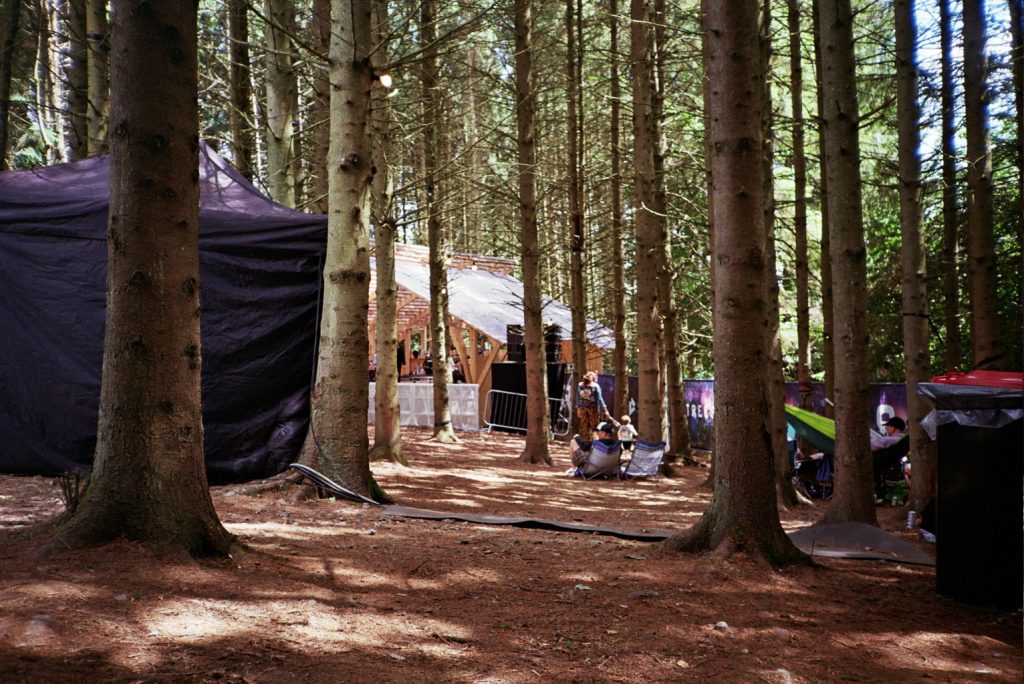 Trees, incase you hadn't already guessed, is very queer friendly. Not least because you're constantly surrounded by people who look all sorts of ways, but most especially because its atmosphere is devoid of judgment. I'm privileged to live somewhere that I feel comfortable being myself, but even then, this place is truly a step above. Everyone is being themselves all weekend, and I'm warmed when I find that our camp's flagpole – flying the bisexual pride flag and Nicki Minaj in front of the stars and stripes – is accompanied by a 'Go Piss Girl' flag from the people camping next to us. 
"Skindred were a complete hoot, on top form, and I got to do my first ever Newport Helicopter."
One thing Trees is especially good at doing is introducing you to new bands you never knew you needed. On a hazed Friday afternoon at the Forest stage, we discovered the churned-up mellow of Norwich four piece Suds, the Jack-Savoretti-I-can-actually-fuck-with sound of Santù, and the snappy tenderness of Lakes. The Oozes are another one to add to your radar: loud, gobby and tremendously queer. They knocked out a cracking set on Saturday afternoon.
Two weeks on, there are a few sets that particularly stand out. Skindred were a complete hoot, on top form, and I got to do my first ever Newport Helicopter. Festival-favourites Dinosaur Pile-Up were bathed in dipping Friday afternoon sunshine, delivering a raucous dose of fun once again. Bob Vylan seemed like he was everywhere over the weekend, with two equally affirming sets on Wednesday and Thursday respectively of rage, moshing, and calling out Emma at Public City PR.
Soft Play, on their first headline set back from hiatus and after their name change from Slaves, shook off early-set nerves and smacked it out the park. They've still got it, and their music still makes me feel like I'm 18 again. Crows, perhaps too Post Punk in theory for a lineup like this, let nothing get in the way of a blistering 30ish minutes on the Neu stage. James Cox remains one of the best and most entertaining frontmen in the country right now.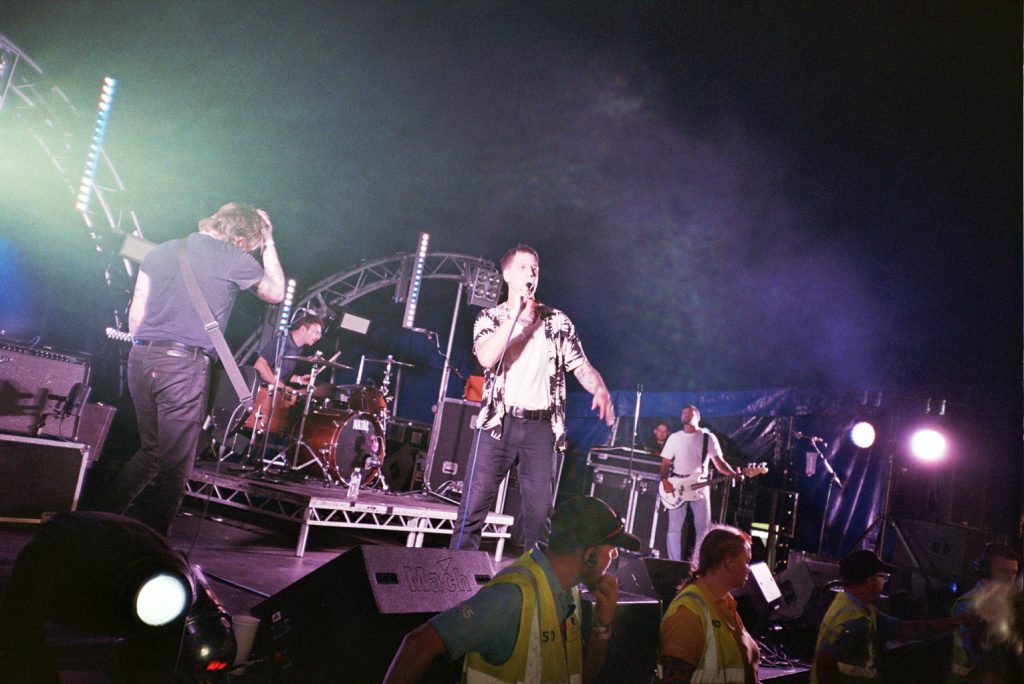 But there is no doubt in my mind that there's one that tops the lot. American Football, back in the UK for the first time in four years, delivered an intangible, palliative experience on Saturday night. Their current sound has beautifully weathered their expressions of teenage loneliness and search for identity into something that borders on the timeless, acknowledging the 20 years since their debut and the life-long impact of our youths. It was worth the wait, let me tell you. Most amazing, however, is what happens when the set ends; we suddenly notice so many people, men especially, hugging and embracing as the lights come up. It's a beautiful reminder of just how much this band's music means to its fans.
"2000 Trees is both a reminder that not everyone in this country subscribes to how awful it's become, and that the festival experience hasn't been lost just yet."
When you step out of the Upcote Farm bubble, back on to the beautiful yet deceitful lanes of Ye Olde Cotswolds, the iron gates, Union flags and monstrous SUVs are a sour, sobering reminder that you still live in a country with a despicable wealth gap. The fact that something so raucous, so expressive could be hosted in one of the most affluent parts of the country is a small miracle. As we sit in the queue leaving the site, there's an unbridled joy as a massive Tesla Model X comes down the opposite way to us, its driver visibly disgruntled at the gabble of hatchbacks filled with people they'd probably call "lefties" daring to block their precious Sunday drive down a road barely wider than their landbarge.
Painful as the return to the real world is, at least for a few days, you are cradled in a place that feels truly cut off from the rest of the world. 2000 Trees is both a reminder that not everyone in this country subscribes to how awful it's become, and that the festival experience hasn't been lost just yet. Its existence feels more urgent than ever, whilst that zen it helped me achieve on the comedown has sorted me right out. See you all again next year.
Check out the bands I enjoyed most at this year's festival on my dedicated playlist.
2000 Trees, Withington, Cheltenham, 5th-8th July 2023